It's CRPS Awareness Month!
It's been a pretty great week in my neck of the woods! All last week our fine city hosted Grey Cup 2013 with the big game being played last night! I can now say that our city is truly alive with celebration because the Riders brought home the cup last night, making history in the process by winning in front of the home crowd! Car horns and cheering could be heard well into the wee hours of the morning as fans celebrated the victory. This city and province are so proud of them and congratulate them on such a great season!
The month of November is CRPS awareness month and so I always put up a post that brings attention to this. I'd normally put something up at the beginning of the month but for whatever reason I didn't and so your getting it now. Ok so I forgot about it!
Since being diagnosed I have always been passionate about creating awareness when it comes to this illness. A common question that people ask me is how many people have CRPS? That's not an easy question to answer because in some places studies haven't been done to determine the numbers. In Holland a study was done based on 800,000 patients determining that 1 in 4000 were diagnosed with this illness. In England a study shows that 1 in 2000 live with CRPS. I was unable to find any numbers for Canada and the U.S. but was able to find that in the U.S. 50% of all cases go undiagnosed. When I last checked on any studies being done in Canada there was one being conducted in 2012 to try and pull together the number of people living with CRPS.
If you read my blog on a regular basis then some of this information I'll be posting will be old news. My goal however with today's post is to educate those of you out there that have little or no background with what CRPS is. CRPS is a multi-system syndrome with diverse symptoms characterized by chronic pain. It affects the immune system, central nervous system (brain and spinal cord), and the vascular system ( hot/cold). It is more commonly found in women( between the ages of 40 and 60) more so than men. As well children and teenagers are also found to be affected.
The pain that one feels with CRPS is a burning, stabbing, and shooting type of pain. It is considered to be one if not the most painful long term condition there is. On the McGill Pain Index it scores a 42 out of a possible 50, above both childbirth and amputation.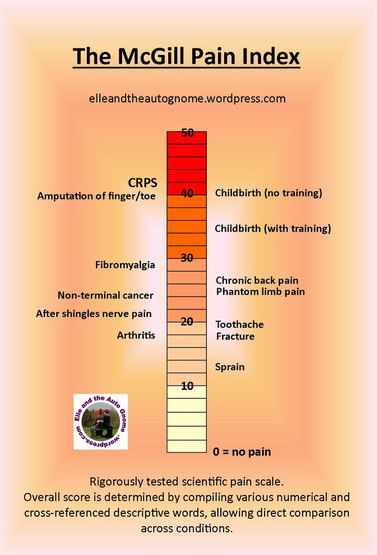 The chart above gives you a visual of the type of pain that someone living with CRPS has to deal with. With pain as intense as this it is key that it be diagnosed as quickly as possible. Often however the pain goes misdiagnosed, diagnosed too late, or the patient is told that everything is all in their head. Although we don't have an accurate number of how many people live with CRPS between 80 and 120 million people live with some form of chronic pain. CRPS is a very real illness that causes suffering that you can't begin to understand unless your living it! So the next time you come across someone living with chronic pain please don't tell them it's all in their head. Chances are pretty good that it isn't and that the pain is very real.