CRPS Awareness Day Nov.6 (Worldwide)
CRPS Awareness Day around the world is on Nov 6 and in recognition of this day, those of us affected by the disease recognize this day by wearing the colour orange. There are also several campaigns around the world that take place in order to light up our cities and countries with the colour orange. This is all in an effort to raise more awareness for Complex Regional Pain Syndrome a rare neuropathic pain condition or disease which at this point in time has no cure.
CRPS Awareness Day Nov.2 (Saskatchewan)
In 2016 I was successful in having the Provincial Government here in Saskatchewan proclaim Nov 2 CRPS Awareness Day. The goal behind this initiative is to raise awareness and educate others about this rare disease. From our front-line professionals such as doctors and nurses who are diagnosing and treating those affected by the disease to those in government who are making decisions and creating legislation pertaining to our healthcare. The need for awareness, education, and research is one that goes far beyond right here at home, and my hope is that other provinces will adopt a day of awareness along with what I am doing here. Hope will not stop there however as I would like to see Canada on a national level get behind this initiative and proclaim a day of awareness right across the country. If we are going to raise awareness and create change, then the only way we are going to do that is by raising our voices and working together as patient advocates. If you are interested in getting involved with CRPS Awareness Day then please feel free to contact me through this website and my contact page.
CRPS Awareness Day Nov 2, 2016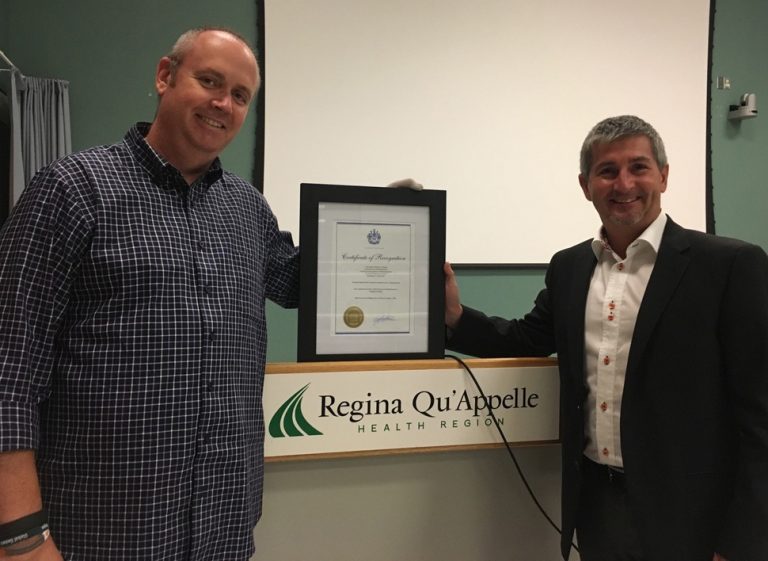 In 2016 we marked CRPS Awareness Day by bringing in Neil Pearson founder of Life Is Now who spoke about the causes of CRPS and complex pain. He also spoke about effective pain management through self-care. We also marked the day by officially announcing the Province of Saskatchewan's Proclamation of Nov 2 as CRPS Awareness Day.
All of the day's activities were held at Wascana Rehabilitation Facility here in Regina. Along with the day's events, we viewed the film "Trial by Fire" by documentary filmmaker, celebrity chef, and advocate for CRPS Charles Mattocks. Over the last few years, I have been lucky enough to get to know him, and the story behind why he is so passionate about advocating for CRPS. The film follows his own mother who was diagnosed with CRPS and her journey in living with the disease. At the same time, he follows the lives of a few others affected by this disease.
CRPS Awareness Day 2017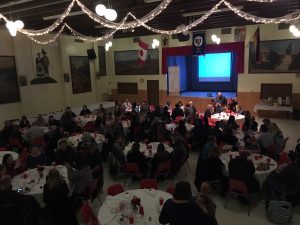 2017 was a huge success growing in size from the previous year. We had a least 50 physicians in attendance with the balance of the guests being friends, family, and caregivers. There were 155 guests in all, up from 75 the previous year. We even had guests in attendance from the Province of Alberta. The theme for this year was "Breaking Down Barriers & Making Relationships. This really was an opportunity for everyone right from the patient to the physician to come together and learn from one another. We also wanted patients and caregivers from across the Province of Saskatchewan to come together and have the opportunity to form relationships with one another so that they could develop support networks with one another.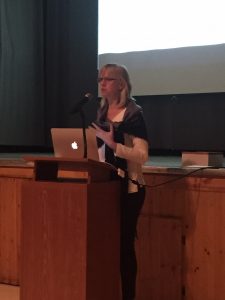 At this year's CRPS Awareness Banquet, we welcomed Dr. Krista Baerg a pediatrician and associate professor with the University of Saskatchewan. She is the principal investigator for the Canadian Surveillance Project on Complex Regional Pain Syndrome in Children and Youth. She gave a presentation to patients, physicians, caregivers, family, and friends on complex pain and CRPS. The content of which covered the basics of what causes the complex pain of CRPS.
The knowledge that Dr. Baerg brought with her was able to educate over 50 physicians and specialists who were in attendance that evening. It's this education of our frontline healthcare that leads to early diagnosis and the possibility of reversing some of the symptoms of CRPS. The big success of the night by having Dr. Baerg there was that we can now say that at least 50 more physicians and specialists have now been educated on what CRPS is all about. If they had some knowledge but were unable to diagnose or treat the disease now they can. I even had a doctor contact me after the evening to tell me that they had made changes to the second-year med student's curriculum to reflect teaching on CRPS.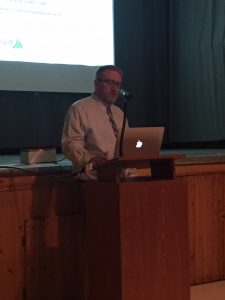 For those patients that were looking for treatment options, I brought in staff from the neuromodulation unit at the Regina General Hospital. They gave a presentation on one of the treatment options available to CRPS patients which is a neurostimulator. The presentation that they gave spoke about the process involved with how the stimulator works to try to manage a patient's pain along with a combination of drug therapy.
Again this was an opportunity for patients, physicians, and caregivers to learn about one of the treatment options available. They also happen to be the team of caregivers that were able to help me to start walking again without the use of a cane. This really is a special team of people! They understand the CRPS patient and what they are living with each and every day. It really was an honour having the team that worked on me along with my neurosurgeon who has done so much to help give me back a quality of life that I didn't have until I got the implants done.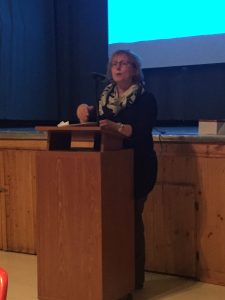 Finally, we had a mother or caregiver speaking from their point of view. This was an aspect that we felt was important to bring in this year. So often the caregiver gets forgotten because all the focus gets put on the person or individual who is dealing with CRPS. This was a very powerful part of the evening because of the new perspective that was brought to light by the mother of a daughter affected by CRPS. The highlight that was emphasized by Donna(caregiver) was that there are next to no resources or support groups for them as caregivers and that having no support while watching your child go through an illness like this is something that nobody should have to do.