Well its been a really interesting day around my house! It started off as a typical day with dropping my daughter off at school, and going out to to some errands with my other daughter. Then things kind of took a turn and the rest of the day has been one I would rather put behind me. When I went to pick my daughter up from school a wasp decided to sting me in the eye. Now a wasp sting at the best of times hurts, but seeing as I have chronic pain it elevates the pain level. My eye has decided that it wants to swell and so for the most part it's staying  closed! My wife calls my new look a quasimotoesque one! Warning to those of you who where glasses. He came between my eye and the glasses and so there wasn't much I could do. Now because I'm on my pain meds for my CRPS there isn't much I can do but ride it out for a day or two until it settles down.
So we'll see how the pain meds I'm on and the ones I just took react with each other. If I get a little spacey you'll know why! However onto bigger and better things. I would like to introduce my sites newest sponsor Dana from The Abundant Life!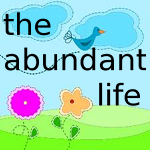 I found her site a couple of weeks ago and was deeply inspired by her outlook on life. Like me she suffers from chronic illness, and for her it's been a life long journey. She really does have a truly amazing story and I consider myself blessed to be able to share in that. I look forward to being able to share her story as well as find encouragement in it. Go over to her site at The Abundant Life and follow her as she strives to get netter!
Over the last few days my pain has been increasing  although I have expected that to happen because of the added stress at the moment. With getting back into a routine there are a few more things to do, so I'm trying to take everything slowly and minimize how much extra pain I have to deal with. All things considered I think things are going well! Fall is quickly approaching though because we are starting to see temperature swings, and I'm starting to notice them more with my CRPS. As we deal with cooler temperatures the pain in my limbs increases, as well as one hand and foot being cooler than the other.
So as expected the extra meds are kicking in and I'm finding it really hard to think. So I think at this point I'm going to call it a point and I'll talk to everyone soon!