After arriving home from a great family trip late last Wed night, I had nothing left in me to write a post! I decided that I needed to give my body a few days after arriving home to get itself not only calmed down but turned around. We had a great time as a family in Cancun, and the last thing we wanted to do was come home to the freezing cold. The holiday met all our expectations and more! Not only did we get a lot of time as a family but my wife and I got a lot of much needed alone time as well. Every morning we'd wake up in our room and hear the crashing waves only to open the curtains to this amazing view!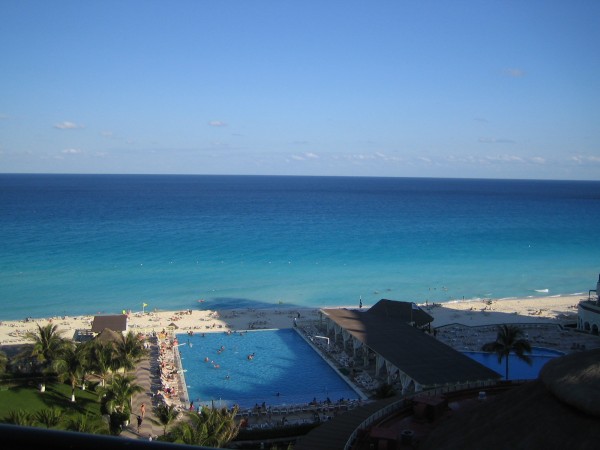 My only regret on the trip was that I made the decision to not take my camera gear along with me on this trip. It was a hard decision to make because I knew there would be all kinds of photo ops presenting themselves to me but family and rest was the purpose of this trip and not pictures. We weren't planning on leaving the resort and so that was another factor in making my decision not take it. As law would have it however the first day there, I looked next door to our resort to find an old abandonded hotel that was destroyed by Hurricane Wilma in 2005! Naturally the photographer in me came alive and I started seeing possible pictures before my eyes!
I'd been looking forward to taking this trip since we booked it in Sept, and so when surgery happened in Oct it made recovery all the more important so that I wouldn't have to miss out! The travel is a great way to distract myself from the pain. However the reality is that its expensive and I can't do it as much as I'd like to.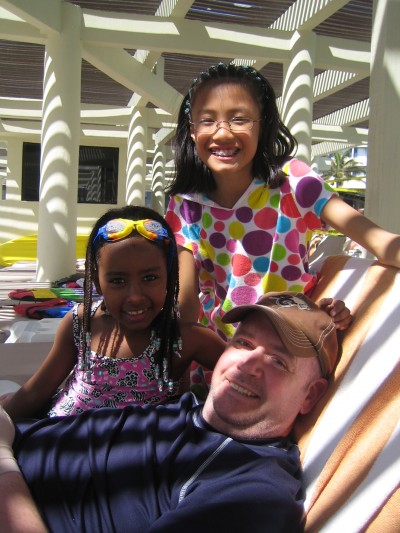 The relaxation was great though and I was able to calm my nervous system down while laying beside the pool most days! While I did some reading or even had the occasional sleep these two little monsters had a great time swimming or even meeting different kids from different places throughout the world. After the type of year I had last year it was good to just laugh and smile a bit more. I'm so thankful for the family that I have and the amazing support that they give me all the time. Even though I had to put up with my pain and the daily flareups I still feel as though it didn't stand in the way of us having a good time. My girls had the time of their lives and that's what mattered the most! As I've said numerous times before I don't want to see CRPS limit me in the things that I want to do and the places that I want to go! I have a lot of this world left to see and I'm not about to stop. So check off Cancun and on to the next destination! The only thing I need to do after this trip was find a way to excercise because I ate way to much while we were there. I'm sure if I stepped on a scale that I will have gained about twenty pounds after all that amazing food!
After arriving home the temperature swing from 31C to -31C really shocked my nervous system and I'm sure its why my body is a bit more cranky than normal. I'm hopeful however that the extreme temperatures will start to ease in the next month or so! It just needs to smarten up or I need to move to the heat! Did I mention that I still have a mental picture of this beach in my mind, with the turqoise blue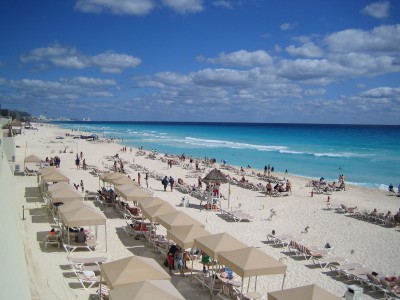 waters!
Okay! Time to get this post finished as the first week back was kind of crazy and I just wasn't able to get to finishing this thing up. So its time to put the my nose to the grindstone and get this thing done. In lots of ways I feel like I have too many things that need attention right now. I don't however have the energy to get it all done. There are two things that I'm really struggling with since having my surgery and that's energy and the ability to lift any weight at all. I find that even lifting a shopping bag that's moderately heavy is too much and almost kills me. So trying to push, pull, and lift are all things that I have real trouble with still. The pain doesn't take a break because with CRPS it never will but over the last week I was able to take a break from focusing on the pain. Every day I watched my two girls take on new adventures and that brought a smile to my face. Both of my girls tackled the rock climbing wall that was there, a little nervous at first but eventually getting the hang of things! In this picture you see my little girl Katelyn scaling it to the top. Then they took a zip line down from the top.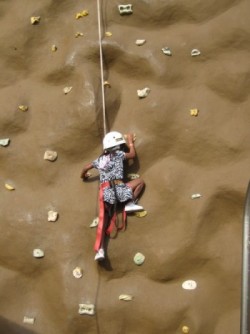 So after a hard morning of climbing and zipping the girls would cool off by either doing some water sliding or laying by the pool eating a plate of fries! Yes vegatables seemed to be a rarity on this vacation for them. We would try but over and over they wanted fries and chicken nuggets. It was vacation so we weren't going to force the issue to much, but it was funny! It was just fun seeing them have so much fun and be kids for a change. What so many people miss is that these kids are growing up with a parent who is battling chronic illness. So life for them is just a bit different because there are lots of times when they have to hold back on that because it affects dad in so many ways. It was the perfect enviroment for them to let loose and just be kids.
When your a family that deals with chronic pain your everyday routine is often a bit different and it can be more taxing on all of you. The moments of stress or tension within the family dynamic are often greater and you have to try hard to laugh at things even when you don't exactly feel like laughing. This trip helped ease all that stress and for once we could just laugh at each other and smile as we had a good time!