Hi again! I know it's been a bit since I posted but hey it's only a few short days before Christmas and it's a really busy time right now. So stick with me because I might have a few more days than normal in between posts because of everything I have going on at the moment. I'm also getting ready to go into surgery again next week. It was whole lot quicker than I had planned and it falls smack in the middle of holidays. I'm not going to argue with the date though! Wait times as many of you know can be long and so I feel very fortunate that this is happening on the 28th of December.
The Christmas season is in full swing and last Friday I went to my youngest daughters Christmas concert for school. As any of you parents out there know the evening came with its fare share of moments where you felt like saying "only my child would do that"! The entire night my girl kept tossing and throwing her hair back as if to say "look at me and how beautiful I look"! Really aren't those the moments though that mean so much as a parent. Your kids might drive you crazy a lot of the time, but it's those moments that build our memories of them. It's not about us on their special night! The bottom line is that they are having the time of their lives up on stage and it's a huge deal to them. She was having the time of her life even though you would never know it from the picture below.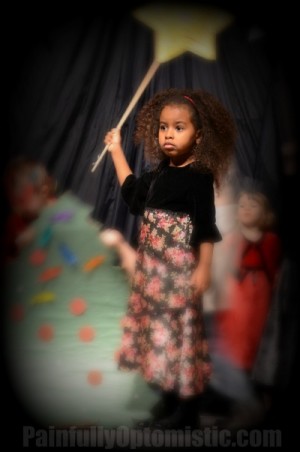 It wasn't until we got to the treats afterwards and being able to visit with all the other kids from preschool that the party really began! The sugar really started to kick in and it was next to impossible to get a good picture with her cousin at the Christmas tree. Any photo ops were quickly ending and this was the best that I could manage under the circumstances.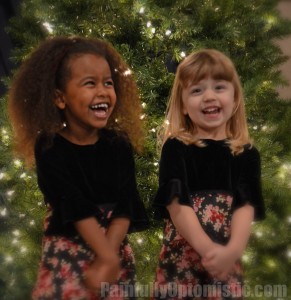 I do have to say though the evening was great and I couldn't be prouder of my little girl. On Wed I have my older daughter's concert and then it's out to the lake for a couple of days for Christmas before coming back for surgery. I just put together a quick post for tonight but I'll be back in a day or two with another! I'll talk to you soon.