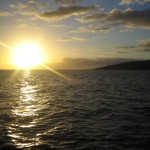 Hi Everyone! I know it's been a while but I'm finally back from my nice relaxing holiday in Maui!! I almost didn't want to get back on the plane to come back home. It was a really fast week but every day was filled with one great thing after another. Not to mention that I've come back feeling more relaxed. It's good to be home although we are trying to get our body clocks back to normal. We are both a bit on the tired side but it is great to be back with the kids, as they also really missed the two of us. Before I go on I'd like to thank Angie for gifting me the book on Maui that she did. It was well used and helped us navigate our way around the island. I'm sorry though that we weren't able to meet up.
Now that we are back it's time to get back to reality and get back to the daily grind. Today was my first day back at therapy and I'd almost forgotten how much fun it was!!! It's bad enough that I'm still tired from the travel, but it takes things to a whole different level to have them working on my limbs and experiencing that type of pain all over again. During my trip the pain was at least at a level where I was comfortable, but over the last couple of days it's been getting worse. I'm hoping that my physio today doesn't set things off. It's been a really nice break not having to think about my health over the last week, and to just sit back and enjoy a holiday. The mental break has been really good for me as well.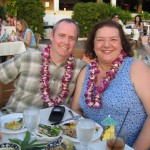 Going into my treatment today I feel better mentally. I feel refreshed and ready to get back into the daily grind.  Even though during my holiday I wasn't able to escape the question and answer periods!! During my holiday people thought I'd hurt myself while on holiday. So on more than one occasion I was asked what I did to myself. I would give the readers digest version of what's going on and I would carry on. Let's face it for those of us who suffer from CRPS  it's hard to go through that daily grind, and the questions that people ask us on a routine basis. One day my wife asked me if it bothered me. My reply to her was that I've become so immune to the comments that people make, that it just becomes part of daily life as I know it now!
As I had mentioned before I was going with the intent of not letting my disabilities limit me from having a great time. I'm happy to say that I was successful in achieving that goal!! I may not have done the zip-line like I'd planned to, or snorkeled like I wanted to, but the main goal of having fun and not letting my disabilities limit me was achieved. Getting the most out of what I could do was what I tried to stay focused on. There just comes a point that you need to accept that things are different, and that you might not be able to do the things you want to do. So instead of getting upset about not being able to do something, focus on what you can do and the fun within that.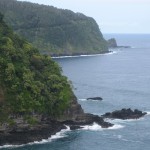 When I look at what I was able to do on this trip I was pretty impressed. Just the simple fact that I did more walking than I could usually withstand is a big deal to me. This allowed me to get out shopping and just have some fun with my wife for a change. Getting to the seven sacred pools was something I really wanted to do, not only for me but for my wife. Before we left I was unsure if I'd be able to make the short walk or hike to these amazing pools, however to my surprise I was able to do it. In my books this was a real accomplishment! Just having enough energy so that I got through a day feeling good was a big thing. I had set out some pretty challenging things for myself on my trip, and didn't achieve a few of them. Do I get upset and depressed that I wasn't able to do these things? No because I have to look at all the small battles that I won!!
So how did I win all those small battles? I believe that my faith was responsible for those victories. Before we left I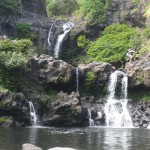 would pray for strength and wisdom on this trip. I believe God answered both of those prayers. I asked for wisdom to make the right choices when it came to things like doing the zip-line or snorkeling. I asked for strength to get through each day so that we could enjoy our time with each other. Like I've mentioned before God is in control and I will continue to stand in faith. I will post some pictures once I download them. In the meantime we'll talk to everyone soon. It's time to get back to reality and life with two kids!!!