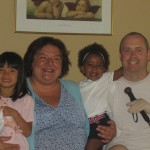 Hello again! Well it seems to be getting busier as we start to get closer to Christmas. I really like the Christmas season however it also brings on a lot of extra stress. That stress usually means increased pain however I'm not going to let that stop me from enjoying the season. This is one of my favorite times of the year. The fact that the Christmas shopping is done for the most part is also great because now we don't have the added stress of what to get for anyone. My wife is great for being organized enough so that we get things done! If it was left to me I'd probably be shopping on Christmas Eve.
This is the best time of the year because we get to spend so much family time together. They really are the ones who keep me going through all this. I have such an amazing family, and am really blessed by the kids and wife that God has given me. As much as the kids drive me crazy, they are also the ones that who help me find the strength to keep going. When your kids of 3 and 6 ask if they can pray for you to take away your pain, then you know that it's a gift from God. They might make me crazy at times however I wouldn't trade them for the world.
Today is one of those days where they could very easily drive me up the wall. I'm having one of those days where it would take next to nothing to crawl out of my skin. My kids can trigger things to get worse when I'm having a bad day. What's really hard though is trying not to let the pain affect my relationship with them. Often I can be short with them when really it's the pain causing me to act that way. There isn't a day that I don't ask for grace from God in dealing with my kids. I want my kids to grow up having a childhood filled with fun, laughter, and love. Sometimes though it can be really difficult not letting the CRPS/RSD affect them as well. You can't tell me that it doesn't affect them because it does. There are lots of times where they can't act like kids do because of dad's condition. Instead at times they have to walk on eggshells because Dad is in pain, and it can be a real challenge to get around that.
Sometimes it can be really hard as I deal with this to watch all the people around me and how this disease affects their lives. However I really believe that God is working among everyone to help everyone with their specific needs. My attitude is that I will win this fight, just like David brought down Goliath. You take on each challenge that you face as it comes at you. Don't let obstacles stop you from getting past them, because there is always a way to get past. As a family this is what we do, we adapt to the circumstances and get it done! First and foremost though God is helping me walk through this one step at a time. He gives me the mental attitude that I need day in day out.
In January my wife and I will be heading away for some much needed time alone. We will be heading to Hawaii to relax and forget about all the pressures that we face. No kids! Quiet time alone! Time with the love of my life! It doesn't get any better than that! Again this is something that you need as a couple to recharge and spend time with each other. Along with that however its a chance to have some fun. We need to focus on things other than the pain. There is this tremendous mental game going on with CRPS/RSD, so I've decided with Gods help to stare adversity in the face!!